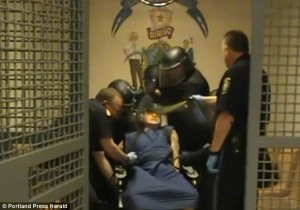 A graphic video (shown below) recently leaked to the public shows a team of corrections officers make liberal use of prison torture tactics on a man who was, at the time of the incident,  incarcerated at Maine Correctional Center and had been held in solitary confinement for two months. A still of the explicit footage, originally obtained by the Portland Press Herald, captures Captain Shawn Welch spraying pepper spray directly into the face of the restrained man as the team of guards use brutal force to thwart any efforts at resistance.
The man, Paul Schlosser, who suffers from mental illness, was at the time taking several medications to treat his bipolar disorder and depression. Allegedly leading up to the incident, which took place in June 2012, was Schlosser's refusal to go to the prison medical unit to be treated for a self-inflicted injury on his arm. Next, in what is referred to as a "cell extraction," corrections officers wearing protective gear removed Schlosser from his cell, putting him into a restraint chair. At first, Schlosser was compliant, but, as reported by the Press Herald:
[W]hen one of the officers pins back Schlosser's head, as his arms are being put into the chair's restraints, Schlosser starts to struggle. When he spits at one of the officers, Welch sprays him with pepper spray, also called OC spray.

Schlosser becomes compliant and complains about not being able to breathe. One officer puts a spit-mask on him, trapping the pepper spray on Schlosser's face.

Welch tells him he must cooperate to avoid similar treatment. Schlosser is in distress for 24 minutes before he is allowed to wash his face.
Welch, who sprayed the OC without warning, held the canister about 18 inches away from his target's face, despite the fact that this particular canister type has the potential to stop multiple people dead in the tracks from over six feet away. After the story broke, Welch was terminated but, following an appeal that took into consideration his service to the Maine Department of Corrections, he was reinstated. …
Read more here:
http://solitarywatch.com/2013/04/05/video-shows-maine-prisoner-with-mental-illness-brutally-subdued-by-guards/