http://www.ogoninews.com/editorials/11-reasons-why-the-death-penalty-should-be-abolished
Nigeria as a developing country has had challenges which are not peculiar but are to a large extent associated with other developing countries. However, one unfortunate history about Nigeria and several other African governments is the brutal nature of government against opposing voices.
One of such cases which has become globally celebrated is the Ogoni in the oil belt of Nigeria. In the early 1990s, the Ogoni people under the leadership of the Movement for the Survival of the Ogoni People(MOSOP) began a mass protest against Shell Petroleum Development Company of Nigeria and the Nigerian Government accusing the duo of rights abuses and environmental devastation of Ogoniland.
The case of the Ogoni were very glaring and factual. To stop the Ogoni people, the government hurriedly executed their leaders including Ken Saro-Wiwa on November 10, 1995. Sixteen(16) years later, a United Nations Environmental Audit Report on Ogoniland revealed an alarming threat to the lives and environment of the Ogoni People. The report says it will take 30 years and $1billion dollars to clean the mess. The Nigerian government has not implemented the report.
Indeed, Ken Saro-Wiwa and his kinsmen were right. One of those who survived the era of unlimited persecution of the Ogoni people is Mr. Ledum Mitee, Saro-Wiwa's deputy who later became President of the Ogoni Movement and Vice Chair of the UNPO.
Today, on the occasion of Mitee's birthday, Ogoninews.com calls for the abolition of the death penalty citing the following 11 reasons:
1) The death penalty is absurd and cruel.
2) But for the Death Penalty, these people would be alive today: Ken Saro-Wiwa, Chief Edward Kobani, Albert Badey, Chief Samuel Orage, John Kpuinen, Chief Theophilus Orage, Dr. Barinem Kiobel,Daniel Gbokoo, Baribor Bera, Paul Levura, Nordu Eawo, Felix Nuate, Saturday Dobee. (The Ogoni 4 – Edward Kobani, Albert Badey, Chief Samuel Orage, and Chief Theophilus Orage's death had been linked a desperate plan to get Saro-Wiwa killed by invoking the Death Penalty).
3) The death penalty is degrading.  It turns states into prescription drug abusers, killing prisoners with drugs like sodium thiopental that manufacturers are on record as stating should only be used to healing purposes.
4) High profile cases, often with racial undertones, create political pressures that can lead to police and prosecutor misconduct.  Ken Saro-Wiwa, who led Ogonis of Nigeria, between 1992 and 1995, campaign against Shell's devastation of Ogoniland was convicted along with 8 of his kinsmen 10 days after a death sentence was passed on them despite that the judgement gave them 30 days to appeal. They were denied the right to appeal and shortly after their execution, Shell was lobbying to return to Ogoniland to resume oil operations.
5) It is not limited to the "worst of the worst".  A recent example: the execution of Teresa Lewis in Virginia on September 23; she was put to death as the "mastermind" of a crime despite her 72 IQ, and despite the fact that the men who actually carried out the crime did not get the death penalty.
6) The death penalty is not limited to cases where there is no doubt about guilt.  Convicted by flimsy witness testimony, and unable to exonerate himself with those same witnesses, Troy Davis was executed despite serious doubts about his guilt.  His birthday is on October 9!
7) Death penalty is been used as a political weapon against the opposition.
8) Death sentences continue to drop.  In 2010 the U.S. recorded barely over 100 persons sentenced to death , compared to an average of close to 300 in the 1990s.
9) One-by-one, states are abandoning capital punishment.
10) The death penalty is not limited to cases where there is no doubt about guilt.  Convicted by flimsy witness testimony, and unable to exonerate himself with those same witnesses, Troy Davis was executed despite serious doubts about his guilt.  His birthday is on October 9!
11) In 1998, a condemned general, Olusegun Obasanjo was pardoned by the state and became Nigeria's only President to hand over to a democratically elected civilian government. Although he could not successfully push for an abolition of the death penalty, he's live was speared by the pardon and he has advocated an end to the death penalty.
12) The death penalty abolition movement is growing, and some progress is being made, but there is a lot of work yet to be done.  The time to get started is now.
 – This article was written with contributions from Amnesty International
DANIEL COOK – ARIZONA- EXECUTION DATE 8TH AUGUST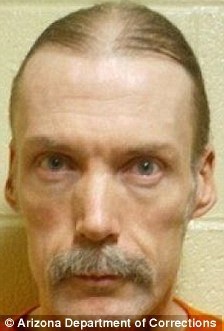 Arizona Gov contact
http://www.azgovernor.gov/Contact.asp
Arizona Board of Executive Clemency
1645 W. Jefferson, Suite 101
Phoenix, Arizona 85007
Phone: 602/542-5656
Fax: 602/542-5680
            I SAW DANIEL COOK IN A REPORT ABOUT US-PRISONS: HE HAS HARDLY TEETH; HE IS SO OLD AND EXHAUSTED – I AM SO ASHAMED ABOUT THAT THIS OLD; TIRED MAN IS SET TO BE EXECUTED!
PLEASE; WRITE OR CALL FOR CLEMENCY!
By Ralph Nader
Ever visit a major prison? The vast majority of Americans have not, despite our country having by far a higher incarceration rate per capita than China or Iran. Out of sight is out of mind.
Imagine the benefits of the average taxpayer touring a prison. The lucrative prison-industrial complex would definitely not like public exposure of their daily operations. Prison CEOs have no problem with a full house of non-violent inmates caught with possession of some street drugs (not alcohol or tobacco). Our horrendous confinement system cannot change when it clings to perverse practices such as cruel, costly, arbitrary, mentally destructive solitary confinement (again, the highest in the world, see: Solitary Watch). Corporate profits drive the prison system's insanity.
Indeed, for the giant Corrections Corporation of America (CCA), times are booming. CCA builds their prisons or buys or leases public prisons from financially strapped governments. Barron's financial weekly can always be expected to give us the Wall Street perspective. In a recent article titled "Ready to Bust Out," writer Jonathan R. Laing is bullish on CCA stock. He thinks it could double to more than $50 a share if the company were to convert to a real estate investment trust (REIT).
Mr. Laing writes that CCA has cost advantages over the public-prison sector, paying lower non-union wages and using more automated technology. Besides, the company is a tough bargainer when it buys or operates public prisons. One CCA condition is that the facility must have 1,000 beds, can't be more than 25 years old, and get this, "the contract must guarantee a 90 percent occupancy rate." A guarantee backed by taxpayers no less, unless, that is, the clause works to put more prisoners in jail for longer sentences.
The Barron's article adds that CCA is counting on "the old standby of recidivism to keep prison head counts growing, filling its empty beds." To the impoverished rural communities where these prisons are located, it's about needed jobs.
The criminal injustice system has many faults, other than an inadequate number of beds filled with convicted corporate crooks. As the Justice Roundtable, composed of a collation of over 50 national organizations, declares, "The current punitive system depletes budgets without making society safer…The Archaic system must be reformed to be rehabilitative, just and accountable."
How naïve! Don't these experienced people know that first they have to change the purposes of this system? Instead of wanting more prisoners and treating them in such ways that when they get out they are too unskilled and damaged to overcome the society's exclusionary pressures that half of them end up back in jail, they should be training these prisoners to be contributing members of society. But that's the problem of the gigantic prison machine that thrives on returning prisoners.
The same perverse incentives apply to the self-defeating trillion-dollar war on drugs (see Drug Policy Alliance). History has demonstrated that driving addictions into illegal undergrounds creates vicious underworld crimes. In Mexico, the so-called drug cartel is getting close to destroying local governments in many regions.
In the U.S., half a million people are behind bars for nonviolent drug offenses, the vast majority arrested for mere possession, not production or sale. That is nearly one in four of all prisoners. There are twenty million marijuana arrests every year in the U.S.!
Drug addictions are treated as crimes instead of as health problems, which we do with tobacco and alcohol addictions. Gross racial disparities persists, starting with black teenagers having to go to jail for a drug offense six times more often than a comparable white youth, both with prior clean records.
Without rehabilitation changes in prisons and changes in societal attitudes toward those who have done time, ex-prisoners will continue to have trouble getting jobs having food stamp eligibility, financial aid for college or vocational schools and even the right to vote.
In the first ever congressional hearing on solitary confinement, led by Senator Richard Durbin (D-Ill.) last month, the Senate Judiciary Committee's Subcommittee on the Constitution, Civil Rights and Human Rights received testimony about and directly from wrongfully convicted prisoners put away in "the hole," as solitary has been called for years. They also heard from Christopher Epps, the boss of the Mississippi prison system, one of a few states that, in the words of The New York Times, "ha(s) reduced prison violence and reaped millions in budgetary savings by steeply cutting back on solitary confinement."
From the lethal drug wars on our city streets to the crowding out of civil cases from the federal and state dockets clogged by these drug cases, to the blocking of proven, superior ways to deal with the entire problem by innovative judges, thoughtful scholars and prominent advocacy groups, the time is ripe for change.
Right/Left convergence is emerging. Last April, for instance, David Keene, former Chair of the American Conservative Union and Grover Norquist, president of Americans for Tax Reform, joined with the NAACP and other liberals to highlight escalating levels of prison spending and its impact on our nation's children and poorly performing schools. Connecticut spends $40,000 a year to imprison a juvenile offender compared to less than $12,000 a year to educate a young person. Other similar convergences over hugely disparate sentencing as with crack and cocaine are forming, making both economic and humane arguments. More young black men are locked up than are in college, according to the Justice Roundtable.
Still, there hasn't been enough reform pressure even to pass outgoing U.S. Senator Jim Webb's legislation simply to create a National Criminal Justice Commission. This legislation is now stuck in Senatorial limbo.
Start up the prison tours. Have some led by articulate, former convicts who are pushing to reform our cruel, costly and ineffective prison system. It is so easy to do much better, if we want to.
The following video, titled "Solitary Confinement: The Season of Sorrow," was directed and produced by our gifted videographer and reporter Valeria Monfrini, who also shot the other original videos on Solitary Watch's YouTube channel. Here is her brief description of the content:
This short documentary explores the experience of solitary confinement through the testimonies of former inmates held in prolonged isolation and their family members, from the city of Philadelphia.

LuQman Abdullah, 48, spent 5 years in solitary. Since his release, he has worked to turn his life around, working as a community activist and raising his two daughters. Lynell Wesley, 29, believes discovering art helped him to endure the 3 years he spent in isolation. Theresa Shoats, 49, is the daughter of Russell Shoats—a former Black Panther, who has already served more than 30 years in solitary confinement.